(Update) I-80 reopened after fiery semi crash
April 16th, 2015 by Ric Hanson
Both lanes of Interstate 80 westbound in Cass County were closed for several hours this (Thursday) morning, following a fiery, semi tractor-trailer accident. The Iowa State Patrol reports a Freightliner semi driven by 31-year old Fernando Hernandez, of Montebello, CA., was westbound on I-80 near the Wiota turn off (exit 64), when the left front tire on the tractor blew out, causing the semi to go out of control. The accident happened just after 3:30-a.m.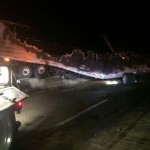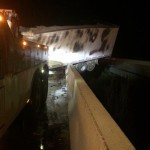 When the rig hit a concrete bridge barrier, the semi exploded into flames that destroyed both the tractor and trailer. Anita Fire and Rescue and Wiota Fire responded to the scene. The State Patrol was also assisted by deputies with the Cass County Sheriff's Office.
Hernandez, and a passenger in the cab were not injured. Both lanes of traffic were officially re-opened as of 8:30-a.m. today (Thursday). Traffic caught between the 64-and 70-mile markers waited for about 3 1/2 hours until it was allowed to proceed slowly in the left lane through the scene. The remaining flow of traffic was re-routed off I-80 at exit 70, south to Anita, west to Wiota, and back north to I-80, around the crash scene. The Exit 64 exit ramp westbound is currently, temporarily closed.