Top Ten named for Iowa's Best Burger contest
March 16th, 2015 by Ric Hanson
The nominations for Iowa's Best Burger show that whether you live in a town of 1,000 people or in a metropolitan area of more than half a million people, great hamburgers are being served across the state. Officials with the Iowa Beef Industry Council said Monday (today), Iowans submitted more than 4,000 nomination votes between Feb. 11th and March 10th that selected the 2015 Top Ten restaurants and their burgers.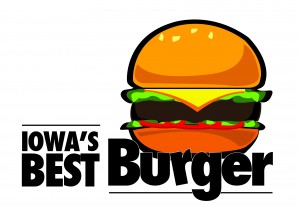 In its sixth year, Iowa's Best Burger contest received nominations for 286 Iowa restaurants. The Iowa Beef Industry Council and the Iowa Cattlemen's Association counted the nominations that came in via online, texting and paper ballots. Those making the Top Ten list are (in alphabetical order):
Ankeny Diner, Ankeny
Big City Burgers & Greens, Des Moines
Down Right Delicious, Clarinda
Elm's Club, Creston
First Street Grille, Keosauqua
Ride's Bar & Grill, Fort Dodge
Saucy Focaccia, Cedar Rapids
The Cider House, Fairfield
The Ritz, Arnold's Park
Zombie Burger, Des Moines
Saucy Focaccia and The Cider House joined 102 other new restaurants at being nominated for the contest. Those two, along with Down Right Delicious, are also in the Top 10 for the first time. Iowa's Best Burger contest now moves to the next stage. All Top Ten restaurants will be visited by judges who will evaluate the hamburgers based on taste, appearance, and proper serving temperature (160 degrees).
The winner will be announced May 4th. To continue to learn more about the contest, you can visit www.iabeef.org where you'll find a map showing the locations of the Top Ten restaurants, or "friend" the Iowa Beef Council Facebook© page.
Last year, Brick City Grill of Ames too home the final prize. Winners in previous years are: 2013- 61 Chop House Grille, Mediapolis; 2012- Coon Bowl III in Coon Rapids; 2011- Rusty Duck in Dexter; and 2010-Sac County Cattle Company of Sac City.