Benefit planned for Atlantic man on April 27th
April 13th, 2013 by Ric Hanson
A benefit silent auction and dinner for Atlantic resident David Williams will take place April 27th, in the Atlantic High School Commons.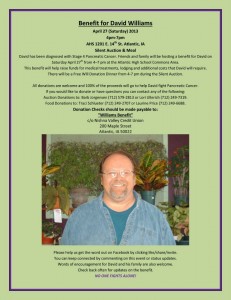 The family and friends of David Williams are uniting to raise money to David help him with his daily living expenses and his battle with stage 4 pancreatic cancer medical expenses. Williams is a former business owner in Atlantic and Master Gardener, who has contributed his knowledge and countless volunteer hours to the community.
The event taking place from 4-to 7-pm April 27th at AHS, will help to raise funds for his medical treatments, lodging and additional costs to be incurred. The meal is available for your free will donation. 100-percent of the proceeds will be used to help David fight pancreatic cancer. For more information, call Barb Jorgensen at 712-579-2813, or Lori Ullerich at 712-249-7319, or look for the Benefit for David Williams page on Facebook.