IA Natl. Guard send-off for MP's Dec. 2nd
November 21st, 2012 by Ric Hanson
A community sendoff ceremony for a Johnston-based Iowa Army National Guard unit will be held at 1 p.m., Sunday, Dec. 2, at the Freedom Center (Bldg. S70) at Camp Dodge in Johnston, Iowa. Local officials and Iowa National Guard leadership will participate and the public and media are welcome and encouraged to attend the sendoff ceremony.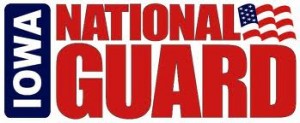 Approximately 40 Soldiers have been mobilized from the 186th Military Police Company. They will report to their mobilization station at Fort Bliss, Texas for additional training and preparation before assignment to Joint Task Force Bravo in Honduras. Joint Task Force-Bravo conducts and supports joint and interagency operations, including countering transnational organized crime, humanitarian assistance/disaster relief, and building partner capacity in order to enhance regional security, stability, and cooperation.
The 186th Military Police Company provides security and law enforcement support in a theater of operations and was previously mobilized for Operation Iraqi Freedom (2007-08 and 2003-04), Operation Joint Endeavor (1996), and Operations Desert Storm/Desert Shield (1990-91).
ALL motorcyclists (drivers and passengers) on Camp Dodge are required by Dept. of Defense policy to wear Personal Protective Equipment (PPE) consisting of helmet, eye protection (full-face shield or goggles or sunglasses), gloves, long pants, long-sleeved shirt or jacket, and over-the-ankle footwear while traveling on Camp Dodge. Motorcyclists without the required PPE may park their motorcycles on Northglenn Dr. (one block east of Camp Dodge off of NW 70th Ave.) and walk to the Freedom Center (approximately three blocks).
Enter Camp Dodge through the main gate at NW 70th Ave., Johnston. Photo identification (a driver's license is acceptable) is required for admittance to Camp Dodge for individuals 16 years of age and older.