Farmers encouraged to register for the America's Farmers Grow Communities Program
August 11th, 2011 by Ric Hanson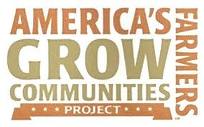 Applications are currently being accepted for the annual America's Farmers Grow Communities Program, sponsored by the Monsanto Corporation. Deborah Patterson, Monsanto Fund President, says the program was launched in 2010, and has resulted in investments of more than $3-million in local communities across the country during 2011. Patterson says they're sponsoring the program again, because they "Care deeply about rural communities." Patterson says there are some requirements that need to be met before farmers can qualify for the program.
They need be 21-years of age or older, actively engaged in farming a minimum of 250 acres of corn or soybeans, or 40-acres of vegetables. She says there is no purchase required. The application process began August 1st and continues until November 30th. Applications can be completed on-line at www.growcommunities.com, or by calling 1-877-267-3332.
This year, nearly $250,000 is available for disbursement in Iowa to all 501-C-3 non-profit organizations, units of local governments, such as fire departments, libraries and schools. Farmers in each of Iowa's 99 counties are eligible for the program. The winners will be randomly selected by a third party and announced in January, 2012. Once a farmer has won, they get to decide which non-profit organization they wish to receive a portion of the funds.
In addition, for every farmer that enters the contest, Monsanto will donate $1 to their local United Way chapters. So far, over 1,700 farmers have signed up for the current contest period. Patterson says since the program began in 2010, the three top recipients of cash awards have been FFA, 4-H and Fire Departments. She says the farmers themselves don't get a prize, but they do get a sense of pride in knowing they're helping out their communities.
Among the local non-profit organizations selected in 2010 by winning area farmers to receive a portion of the funds provided by the America's Farmers Grow Communities Program, was: the Massena, Audubon, Brayton, Greenfield, and Shelby Fire Departments; the Shelby County Fair Board, and Coon Rapids-Bayard FFA. Those organizations received their awards this past Spring.