RAGBRAI on the Roof event in Atlantic
July 8th, 2011 by Ric Hanson
RAGBRAI is less than two weeks away, and the local organizing committee is hoping to get the community excited about the event. T-shirt sales are in full swing, and Hy-Vee will host a special promotion on Friday, July 15 from 8 a.m. to 8 p.m.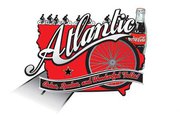 "We'll have members of the Atlantic RAGBRAI Organizing Committee on top of the roof cycling all day," says Kipp Harris, General Chair. "We're hoping everyone will come to the store, purchase a t-shirt, and help us get everyone excited about this event."
T-shirts featuring the "Cokes, Spokes & Wonderful Folks" logo will be available for sale for $12 and $14. Youth and adult sizes are available in both gray and black.
Locals who wear the t-shirt on Sunday, July 24 will get free entry into the beer garden and entertainment area next to the Rock Island Depot. Admission without the shirt is $5.