Three arrested after shooting incident in Adams County
May 13th, 2011 by Ric Hanson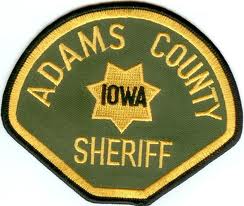 Three southwest Iowa men are in custody following a chase involving four vehicles and shots fired early this morning in Adams and Union Counties. Adams County Sheriff Alan Johannes says 19-year old Logan Jenkins faces 5-counts of attempted murder and one-count of going armed with intent. His 22-year old brother Trenton and 44-year old father Eric Jenkins, all from Prescott, were both charged with five-counts of Assault While Participating in a Felony, following an incident which began just before 1-a.m. in Adams County, and ended on Highway 34, on the outskirts of Creston.
Johannes says the trio were in three separate vehicles which were chasing another vehicle. During the chase, Logan allegedly fired multiple rounds from a rifle, some of the bullets from which struck the vehicle being chased. That vehicle was occupied by five people, all of whom were under the age of 18. None of persons in the chased vehicle were injured.
The Jenkins' were being held in the Adams County Jail. The incident remains under investigation.