Fire destroys rural Guthrie County Home
May 23rd, 2011 by Ric Hanson
Lightening may have sparked a fire that destroyed a home in rural Guthrie County Saturday night. Guthrie Center Fire Chief Doug Kent told KJAN News this (Monday) morning, the call about a fire at 2667 Frontier Road came in at around 11:30-p.m.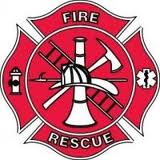 Kent says the home, owned by Tyler Carney, of Adair, and located about seven-miles southwest of Guthrie Center, was being remodeled, and is considered to be a complete loss, with the roof and sidewalls gone. The structure was unoccupied, and no injuries were reported.
The Guthrie Center Fire Department received mutual aid in fighting the blaze from the Adair and Casey Fire Departments. They remained on the scene for over four hours.
 The Chief says a storm passed through the remote area at around 8:30-p.m., and it's possible lightening may have struck the home and caused a fire to smolder for about three-hours before it engulfed the home, but the cause remains under investigation.