Charges filed in connection with fatal crash
April 27th, 2011 by Ric Hanson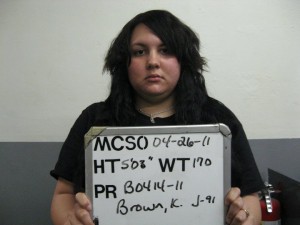 The Iowa State Patrol in association with the Montgomery County Attorney's office have filed charges against an Essex woman, in connection with a crash late last year that claimed the life of two Cumberland children. 18-year old Karli Jo Brown, of Essex, was arrested Tuesday on two-counts of motor vehicle homicide and one-count of serious injury by a motor vehicle, with regard to a November 28th crash that resulted in the deaths of 5-year old Maliki Todd and 4-year old Alex Todd. The children's mother, 25-year old Nina McNeese, was injured in the crash.
The accident occurred on Highway 48 in a no-passing zone. Officials say Brown was southbound on Highway 48 when she attempted to pass two vehicles. He car collided head-on with McNeese's vehicle, at the crest of a hill.
In the complaints filed against her, prosecutors allege Brown operated a motor vehicle in a reckless manner which intentionally caused the deaths of the two children and resulted in serious injury to McNeese. She was also cited for allegedly speeding, texting while driving, and passing in a no-passing zone.
Brown was taken into custody Tuesday, but later released on $10,000 bond. Her preliminary hearing was set for May 10th in Montgomery County Court. If convicted on the charges, Brown faces a total of up to 25-years in prison and/or fines of up to $30,000.