Lavon and Miss NiNi talk about making cookies.
WHAT'S IN THOSE OATMEAL COOKIES?—adapted from kingarthurlour.com
Ingredients:
1 c. butter, room temperature
1 c. granulated sugar
½ c. brown sugar
1 t. vanilla extract
2 large eggs
1-1/2 c. all-purpose flour
1 t. baking soda
½ t. salt
2 t. Chinese Five Spice Powder (original recipe called for 1 t. cinnamon as the only spice)
3 c. old-fashioned rolled oats (Old-fashioned oats will give a great chewy texture. I discourage the use of quick or instant oats in this recipe.)
1 c. Grape-Nuts cereal
2 T. sesame seeds, toasted
Optional add-ins—
½ c. semisweet chocolate chips
½ c. shredded coconut
½ c. raisins
½ c. toasted pecans, chopped
Method:
To toast sesame seeds, put small frying pan on range  top on low to medium heat. Add sesame seeds. Stir frequently until lightly brown. (Keep a constant vigil on this as all-of-a-sudden, they could burn.) Cool slightly.
In mixing bowl, beat together butter and sugars until light and fluffy. Add vanilla and eggs, one at a time, beating until well combined. In a separate bowl, whisk together flour, baking soda, salt, and Chinese Five Spice Powder. Slowly add flour mixture to butter mixture, beating until well combined. Add oatmeal, cereal, and toasted sesame seed and blend until combined. Add optional add-ins. (May need to stir by hand if optional add-ins make dough too stiff for mixer to handle). Refrigerate dough (covered) for at least 30 minutes or up to overnight.
Preheat oven to 350 degrees Fahrenheit. Line cookie sheets with parchment paper or Teflon baking sheets. Using a cookie scoop, spoon, or your clean hands, drop balls (about 2 inches in diameter) onto cookie sheets. Bake for approximately 10-12 minutes, (Cookies will become less chewy the longer they are baked.) until just beginning to brown around the edges. Remove from oven. Do not remove cookies from cookie sheets until slightly cool. Makes about 40 cookies.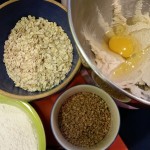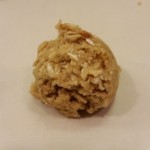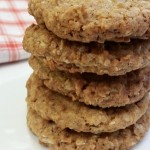 Miss NiNi
Podcast: Play in new window | Download (430.3KB)