WEEK OF OCTOBER 21, 2019
October 21st, 2019 by Jim Field
FREE: Pallets to give away. Call 712-243-2288 to arrange pick up.
FOR SALE:  An Argo 6 wheel ATV, $3500 SOLD.  A Miller Bobcat 225G Welder Generator used only 37 hours, $3,000 SOLD.  A 500 gallon fuel tank, $200.  Call 712-323-4890.
FOR SALE:   Hudson brand Lawn/Garden Sprayer – 3 gallon size – Good condition.  It is an older sprayer so it is more heavyweight than the newer ones. – $10.  Larson Storm Door Windows  – Three of them and all different sizes with white frames.  Will need to call for sizes.  Good condition. – $4 each.  Items are located in Exira.  Phone 515-681-5997.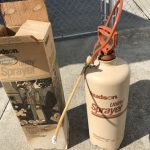 FREE:  For pick up older box springs and mattress (full/double) bed size.  Items are located in Exira.  Phone 515-681-5997.
WANTED: Looking to purchase a 1974 Javelin Yearbook from Atlantic. Would like it to be in good shape. Call 712-769-2557.
FOR SALE: 4 Christmas Items:  Wreath with lights and plays Christmas songs…..$20.00, Centerpiece $20.00, Wooden Mr. & Mrs. Santa $20.00, Decorative bird house (12″ high) $15.00.  Call 417-876-7108 (Kimballton Area), could deliver to Atlantic.
FOR SALE: 2 antique barber chairs. One is Koken and the other is a Clairemont. $250 each SOLD. Log splitter, powered by 8 hp Briggs & Stratton, 28 ton. $600. 712-323-4890.
FOR SALE:  Whirlpool smooth top electric range.  Make an offer.  Call 249-2133.
FOR SALE:  13 Indian head pennies.  Asking $10 each.  Call 249-5391.
FOR SALE:  I have three rat terrier female puppies left to sell.  They are 6 weeks old, tails and dewclaws done, raised in our home, potty training, played with daily. Mom is regular size rat terrier and dad is a toy rat terrier.  located in Atlantic.  Asking $200/each.  Call 712-303-9291 for more info and pictures.
FOR SALE: 150cc Trailmaster dune buggy. $1,200 cash or partial trade for vehicle and cash. 712-243-8434.
FOR SALE:  1. White kitchen cabinet cupboard.Asking price is $40 (firm).  2. A wooden 4 shelf ladder type.  Shelves start out small and go bigger at the bottom.  Asking $25 (firm) for that SOLD.  Call 712-249-7699 if interested.
FOR SALE:   2 – 14.4 lb bags of Purina One True Instinct Grain Free High Protein Adult Cat Food…..$20 ea or $35 for both.  Normally runs around $27 to $33 a bag before tax.  Call 712-249-2033 and leave a message if no answer and I'll get back to you.
FREE:  Toolbox for truck, fits a Ford pickup, homemade and covered with metal. Can be seen in the alley between 10th & 11th of Maple & Elm. 243-2743.
FOR RENT: Trailer house in Lewis on a nice big yard. 712-769-2338, leave a message if no answer.
FOR SALE:  Chip and dip bowl and accessories. Asking $20.00 call 712-249-2905 no answer leave a message. Exira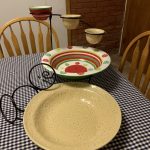 FOR SALE:  16 x 20 dog kennel, $40, 712-435-9254.
FOR SALE:  Large horse cart for sale, $500.  Call  712 268 2130.