MONDAY, JUNE 10th
June 10th, 2019 by Jim Field
FOR SALE:  Antique dresser…..needs refinished. $125.  Antique wooden yoke….$50. 3 gunny sacks & 4 cloth seed sacks…$5/ each or $25 for all.  Contact Vicki 712.762.3918.
FOR SALE:  Large blue canner with rack and large pot. $10.00 each 712-250-0931.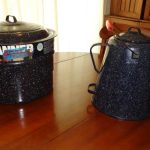 FOR SALE: 1992 Mercury Grand Marquis, 4 door, 4.6L motor, rear wheel drive, 4 wheel disc brake. $900. 249-5742.
FOR SALE: Samsung washer and dryer…year and half old…lightly used.  Washer model is WA50M7450AW-5 CU FT.  Dryer model is DVE50M7450W.  $1,100 with warranty good til Sept 2023.  Selling because want a one I can reach without a step stool.  249-2033…LEAVE MESSAGE.