Audubon's Lawson to become a Kohawk
April 15th, 2019 by Chris Parks
Audubon senior Lane Lawson announced last week that he will continue his academic and football career at Coe College in Cedar Rapids. Lawson played on both sides of the ball for the Wheelers. He racked up 135 tackles on defense during his career and caught 32 passes for 635 yards during two of his seasons as well. He spent time on the offensive line as a senior.
Lawson made his announcement on social media.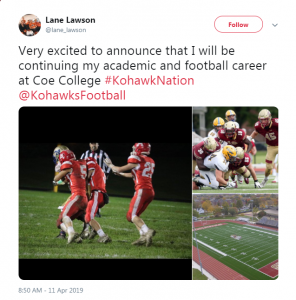 Lawson chose the Kohawks over Central College, Iowa Central and Truman State.
He'll join his Audubon Teammate Tyler Reibhoff on campus, as he is a member of the Coe baseball team.