WEDNESDAY, FEBRUARY 13th
February 13th, 2019 by Jim Field
FOR SALE:  Gas stove works great asking $75.  Call or text 712-254-0123.
FOR SALE:  Several Women's button up, snap shirts for sale, new condition (Wrangler, Aura, Cruel, etc……) Most sz small.  Have pictures if interested.  $8-10 (Some have never been worn, others a couple times).  712-789-0479.
FOR SALE: BRAND NEW-Justin sq toe boots, size 6 ½, $90 (similar to below but black toe).  712-789-0479, Can send picture if interested.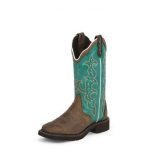 FOR SALE: 1)Filter Queen air purifier. Helps asthma sufferers and those with other breathing problems. Come check it out and make an offer. 2) Essick Humidifier. 4-speed multi controls. Easily movable to use in multiple rooms. Make offer. Call 712-268-2609.