Like watching storms? Severe weather spotter training courses start soon
February 13th, 2017 by Ric Hanson
We're all impacted by the weather, one way or another, but Iowans who have a keen interest in the actions of Mother Nature should consider becoming an official spotter. Kelsey Angle, the warning coordination meteorologist at the National Weather Service, says spotter training classes start next week at locations all across the state. "Storm spotter training is training people to identify when severe weather does occur and then how to report that information to the National Weather Service," Angle says. "These people are extremely important in the verification process in regards to severe weather and also putting that information into the warnings and statements that we distribute to the public."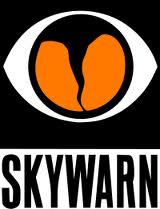 Over the years, more than 45-hundred weather spotters have been trained in central Iowa alone and Angle says they're an exceptionally valuable resource. "The training is free and open to the public," Angle says. "Participants will go through an hour-and-a-half of training which will include identification of tornadoes, how to measure hail, as well as describe wind damage and how to report that information back to the National Weather Service."
Sometimes, young people become especially fascinated by the weather and they can make excellent spotters — for life. "There is no age limit associated with the training," Angle says. "Anybody that has an interest in weather and reporting information to the National Weather Service is welcome to attend."
Even if you've gone through the training before, he suggests taking the course every year as a refresher. Thirty-three spotter training sessions are planned just in central Iowa through April, with the first course scheduled for February 21st in Webster County.
Locally, Storm Spotter Training classes are being offered:
In Cass County: 7-p.m. Wed., March 8th, at the Cass County Courthouse, in Atlantic. For more information, call Cass County Emergency Management Coordinator Mike Kennon at 712-243-1500.
In Adair and Guthrie Counties: 7-p.m. Wed., March 15th, at the Menlo Community Building, in Menlo. For more info., call Adair-Guthrie EMC Bob Kempf at 641-332-3030.
In Union County: 7-p.m. Tue., March 21st, at the Alliant Bldg. upstairs conference room (208 W. Taylor), in Creston. For more info., call Union County EMC JoAnne Duckworth at 641-782-1622.
(Radio Iowa)