2014 Cass County Fair FFA Recap
August 5th, 2014 by Jim Field
By Haley Carlson
Atlantic FFA Reporter
This year Atlantic FFA had a very successful year at the 2014 Cass County Fair. FFA members competed a variety of different livestock categories and other Fair activities. 20 FFA members participate this year. To start the Fair 3 Atlantic FFA members participated in the King & Queen Contest. FFA member Tyler Christensen was crowned Fair King and Mr. Congeniality. FFA member Wyatt Saeugling was crowned Fair Prince. Representing the ladies, Calley Klindt was a finalist for Fair Queen.
On Friday Calley Klindt and Heather Reyna showed at the FFA Rabbit show. Klindt's 6 Class Junior Doe earned a Purple Ribbon and won the class. Reyna's 6 Class Junior Buck won its class earning a purple as well. In the 6 Class Senior Buck class Reyna's rabbits earned a Lavender, Blue, and Red Ribbon. In the 6 Class Senior Doe Reyna's rabbits earned a Lavender, and 2 Blue Ribbons. In the 4 Class Junior Doe Reyna's rabbit earn a lavender and Klindt's earned a blue. In 4 Class Senior Buck Reyna's rabbit earned a lavender. In the 4 Class Senior Doe Reyna's rabbit earn a Red ribbon.
This year in the Horse Show FFA member Carly Westphalen won Reserve Champion FFA Showmanship with her horse.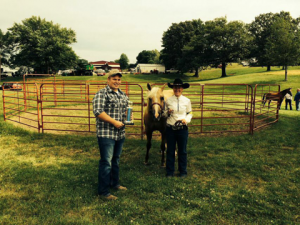 On Friday Afternoon 3 teams competed in the FFA Livestock Judging contest. 14 teams from across Southwest Iowa competed this year. Atlantic FFA Team 2 placed 4th overall with a total score of 887 points. Team members included Clayton Saeugling, Adam Freund, Morgan Barkley and Emily Saeugling. Atlantic FFA Team 1 which consisted of team members Wyatt Saeugling, Reid Nichols, Marshal McDermott, and Nate Moen placed 6th overall. Atlantic FFA Team 3, which consisted of FFA members Haley Carlson, Tyler Petter, Lexi Freund, and Cole Jipsen placed 8th. In the Individual Contest Tyler Petty placed 4th and Reid Nichols placed 7th.
To end the day Atlantic FFA members helped with the Mutton Bustin event before the Rodeo. Atlantic FFA member Morgan Barkley said, "The Fair is so much fun, but exhausting. It always goes way too fast."
On Saturday the Atlantic FFA started the day by working in the FFA Foodstand. FFA members took 2 hour shifts helping to serve Hot Dogs, Nachos, Walking Tacos, and the World Famous FFA Maidrites. "I think the Foodstand had an excellent year and continues to thrive once we build a new one", said FFA member Haley Carlson. The Foodstand is run by the Atlantic, CAM and Griswold FFA Chapters. All the money made from the foodstand will pay for the trophies and ribbons handed out at the fair as well and saving for a new building. Our county FFA chapters were very fortunate to receive a donation from the Trevor Frederickson Memorial Fund. This fund was established after Trevor lost his life in an apartment fire in 2009.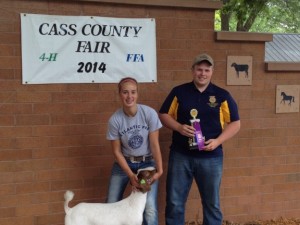 Also on Saturday Tyler Christensen and Heather Reyna showed FFA Lambs. Heather had two lambs in the FFA Black Face Individual Class 1 earning a Purple and a Lavender Ribbon. Tyler's lamb in class 4 earned a Blue Ribbon. In FFA Black Face breeding Ewes Reyna's lamb earning Blue Ribbon and in FFA White Face Breeding Ewe class Reyna's lamb earned a Lavender Ribbon. Reyna also won the Reserve FFA Showmanship award. FFA member Heather Reyna said, "I had a busy Fair. I showed FFA Rabbits, Sheep and Poultry. It was long week, but a lot of fun."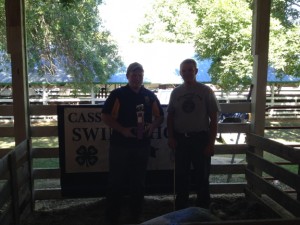 On Sunday morning the FFA Swine Show was held in the show ring. The Showmanship contest was the first event of the day. Atlantic FFA had 7 member compete this year. Wyatt Saeugling won Champion Showmanship and Emily McDermott was Reserve. In the FFA Pen of Three Market Hog class Clayton Saeugling won Champion and Wyatt Saeugling was the Reserve. Paige Sorensen earned a Purple ribbon, Emily McDermott earned Lavender ribbon, Marshall McDermott earned a Blue ribbon, Kyle Redinbaugh earn a Blue ribbon, with their pens of three. In the FFA Market Barrow class Haley Carlson earned a Lavender and Blue ribbon, Clayton earned a Lavender ribbon, Emily earned a Blue ribbon, Paige earned 2 Blues, Kyle earned 2 Blue ribbons, Marshal earned a Blue ribbon. In the Individual Market Gilt Class, Wyatt Saeugling won Champion and Marshal McDermott was the Reserve. FFA member Wyatt Saeugling said, "I did very well showing my livestock this year. This is my last year and I am going to miss waking up before the sun to work on calves, walk pigs and all of the other little things that go along with it. It has been a life changing experience."
On Sunday afternoon the FFA Poultry Show was held outside the poultry barn. In the Commercial Egg Pen of Three Heather Reyna was the Champion. In the Individual Large Fowl class Heather won 2 Red ribbons. In the Bantam Class Calley Klindt won Reserve Champion and won a Blue and Red ribbons and Heather won a Blue ribbon. In the Duck Class Calley won a Blue ribbon Heather won Purple. In the FFA Geese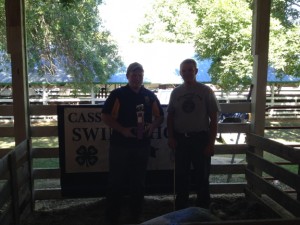 class Calley was the Champion and Heather was the Reserve Champion. In the FFA Turkey Division Heather won a Purple ribbon. In FFA Pigeon Division Calley Klindt was Champion and Reserve. The final class was FFA Showmanship, the Champion was Calley Klindt.
The Final event for Sunday was the FFA Feeder Calf Show. In the FFA Feeder Heifer Show Mark Jacobsen earned Champion and a Blue ribbon.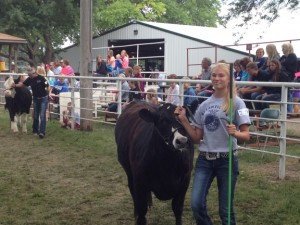 On Monday the FFA Beef show started the day. In the Market Heifer Division, Emily McDermott earned a Lavender, Marshal McDermott earned a Blue ribbon, Gabrielle Jordahl earned a Blue ribbon. In the FFA Market Steer Show, Haley Carlson earned a Purple ribbon, Wyatt Saeugling earned a Lavender ribbon, Clayton Saeugling earned a Lavender ribbon, Marshal McDermott earned a Blue ribbon, and Mark Jacobsen earned a Lavender and Blue ribbons. Later in the evening Carlson won Champion FFA Market Steer.
The FFA Goat show finished off the livestock portion of the Fair. In the FFA Market Goat Show, Haley Carlson was Champion. Tyler Petty was Reserve Champion and he earned a Blue ribbon. Morgan Barkley earned a Blue ribbon. In the FFA yearling Doe class Haley Carlson and won Champion. In the FFA Showmanship event Haley Carlson won Champion.
Eric Miller, Atlantic FFA Advisor said, "Overall the Fair was a success for all of our FFA members. I think we will have more FFA members participate in the future." FFA member Lexi Freund said, "I have recently joined FFA and got to participate in working the foodstand and also livestock judging, which I thoroughly enjoyed."
The Atlantic FFA members would like to thank all who donated trophies for the FFA shows at county fair this year as well.