Severe weather possible again today, along with heavy rain
June 30th, 2014 by Ric Hanson
The National Weather Service in Des Moines says will be the potential for more severe weather today, including tornadoes, strong thunderstorm winds and large hail. There will also be the potential for locally heavy rainfall. Today may also bring a widespread significant wind event to the area in the late morning or afternoon.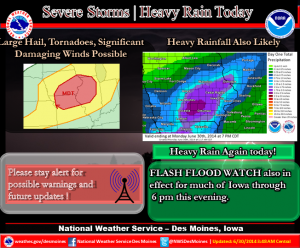 A Severe Thunderstorm Watch is in effect for the entire KJAN listening area until Noon today. And, a Flash Flood Watch is in effect until 2-p.m. for the Monona, Harrison, Shelby and Pottawattamie Counties. A Flash Flood Watch is in effect until 6-p.m. for the rest of the KJAN listening area.
Be prepared for dangerous storms that approach your area…stay alert to changing conditions and monitor your NOAA weather radio for forecast updates and possible watches and warnings. Review your severe weather safety procedures and move promptly to a place of safety if a warning is issued for your area.
Storms that developed Sunday afternoon in eastern Nebraska crossed into western Iowa's Harrison County before spreading east through Shelby and Audubon Counties late into the evening, and then into central Iowa. The storms affecting our area dropped hail ranging in size from quarters in most locations, to baseball-sized hail near Magnolia.
There were also reports of funnel clouds in and around the Harlan and Elk Horn areas late Sunday evening, and one possible touchdown of a tornado in a rural area northwest of Harlan, but there were no immediate reports of damage.