Numerous field/grass fires reported Wednesday afternoon
April 10th, 2014 by Ric Hanson
Firefighters in Montgomery County had a very busy day, Wednesday. Emergency Management Coordinator Brian Hamman reports firefighters from Stanton were finishing up with a previous field fire at around 2-p.m., when they noticed heavy smoke south of Stanton. A crew from Stanton responded to investigate the area and found a large fire in a field in the area of 110th Street and M Avenue, in Page County.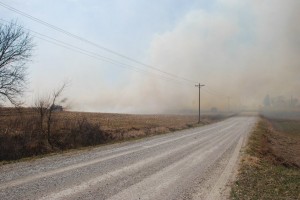 Fire crews from Essex, Red Oak, and Villisca assisted on the scene for several hours. Multiple tractors with discs also aided with controlling the fire. While this was ongoing, a rekindle of a previous fire west of Stanton occurred and a second crew from Red Oak and Stanton were able to control the fire in a short amount of time. The cause of this fire appears to have been from previous burn pile that was reignited by strong winds.

Earlier in the day, the Villisca Fire Department was paged to a small waterway on fire around 8:30-a.m., and another fire around 11-a.m., in Villisca. Stanton was paged almost simultaneously to two separate field/ditch fires around 11:30-a.m. The first was a half mile south of Stanton on O Ave and the second fire was west of Stanton on the train tracks around 220th Street and M Ave. Fire crews from Red Oak and Villisca Fire assisted Stanton Fire on both fires, using with grass trucks and tankers.
Although most of fires were unintentionally set, some were from old burns that had taken place or others were set and left. Red Flag conditions were in effect Wednesday. When that type of warning is in-place, no one should conduct any outdoor burning, at any time.

There were also reports of field fires in Shelby County, and near the Lake Anita Dam in Cass County, Wednesday afternoon.