No Burn Ban for Cass County but precautions are needed
March 21st, 2014 by Ric Hanson
While other counties in southwest Iowa have elected to issue a ban on open burning, Cass County will not being doing so at this time. The was the consensus of the fire chiefs who attended the Cass County Fireman's Association meeting Thursday night, in Marne. Cass County Emergency Management Director Mike Kennon says a ban on open outdoor burning won't be necessary if people use common sense. He says for the most parts area residents have acted responsibly, and if they continue to act responsibly, the County will refrain from issuing a burn ban.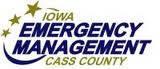 Acting responsibly means planning ahead before you conduct any outdoor burning. Kennon says residents should check the weather forecast to make sure the winds won't be strong, call your local fire chief to confirm the time and place of the intended burn. You also need to call the Cass County Communications Center at 243-2204 well ahead of time, so they know not to send out fire crews and equipment when they receive calls from the public fearing a fire is out of control.
Even though there is no burn ban currently in effect in Cass County, Kennon and the area Fire Chiefs are urging residents not to burn for the next couple of days because conditions are expected to be dry and windy. Once a fire is lit, according to Kennon, it needs to be attended to and monitored even when you think it has been extinguished.
He said some of the larger brush piles can burn for days, so to can't just walk away. They need to be monitored closely.