March has been unusually dry in Iowa
March 29th, 2014 by Ric Hanson
The Iowa Department of Natural Resources, Friday, released their latest precipitation information and drought report. Officials say the past two weeks have been unusually dry across most of Iowa. The statewide average precipitation was 0.19 inches, while normal for the period is 1.01 inches. Salem in Henry County in southeast Iowa was one exception, receiving over an inch during this period. Precipitation in Cass and surrounding Counties is 10-percent below normal for the period covering March 12th through the 26th.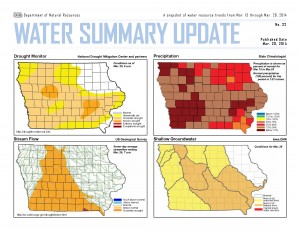 About seven percent of the state remains in severe drought, while about half of the state is rated in moderate drought, including most of western and southern Iowa, with the exception of Adair, Guthrie and Dallas Counties, which are "Abnormally Dry." This is reflected in the drop of average stream flow in Iowa. Recent rains are reflected in the stream flow index upturn for the past few days.
South of Interstate 80, ice is almost completely gone from rivers. Iowa DNR fisheries biologists continue to monitor oxygen levels in many waters and have seen some slight improvements in some places. Considerable areas of ice remain in northern Iowa.
For a more thorough review of Iowa's water resource trends March 12th through March 26th, go to http://www.iowadnr.gov/watersummaryupdate.