Clarinda Police Chief clarifies Burn Ban restrictions
March 21st, 2014 by Ric Hanson
Clarinda Police Chief Keith Brothers says he's been getting several inquiries from citizens about the Page County Burn Ban that was put into effect earlier this week.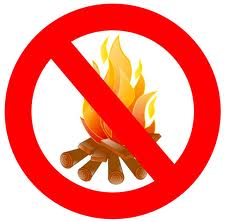 Brothers says the City of Clarinda's Ordinance states that during a burn ban the only type of burning allowed is:
OUTDOOR COOKING FIRES. Outdoor Cooking fires (barbecue grills) burning common cooking fuels such as natural and/or LP gas or charcoal being use for the cooking of food for human consumption are permitted, but that open ground fire pits cannot be used. Any other type of open burning is strictly prohibited and absolutely no recreational fires are allowed.
In simple terms, you can can cook burgers, brats, steaks and hotdogs on the grill, but any other type of open burning remains illegal as long as the burn ban is in place. If you have any questions, please contact the Clarinda Police Department or Clarinda Fire Department.