Burn Ban in effect in Pottawattamie County beginning 8-a.m. Wed.
March 18th, 2014 by Ric Hanson
Pottawattamie County Emergency Management reports a burning ban will be in place for Pottawattamie County starting Wednesday, March 19, 2014 at 8:00 a.m. The ban prohibits open burning in Pottawattamie County, including all the cities within the county.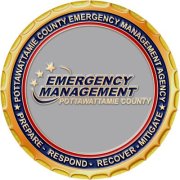 The current dry conditions throughout the region have caused an increase in fire responses throughout eastern Nebraska and southwest Iowa. As dry conditions persist, dead and drying vegetation is the perfect fuel to spread fires rapidly. EMA Director Doug Reed says Pott. County "Has seen the devastating effects of fire in extreme conditions and we want to do everything we can to help mitigate an incident like that from occurring."
During these dry conditions, citizens are reminded to not throw out cigarettes from moving vehicles and to discontinue burning yard waste, piled tree debris or other items during the ban. Small recreational camp fires are permitted only if they are conducted in a fire place of brick, metal or heavy one-inch wire mesh. Any camp fire not in an outdoor fire place is prohibited.
Violation of a burn ban can subject a person to citation or arrest for reckless use of fire or disobeying a burn ban. For more information on burn bans and the law you can find further information on our facebook page or you may call 712-328-5777.