Cass Co. Farmer Wins $2,500 for Atlantic H.S. Journalism Dept.
February 14th, 2014 by Ric Hanson
Officials with the Monsanto Fund have announced Mrs. Stephanie Witzman of Cass County, has been selected as a winner in America's Farmers Grow Communities, sponsored by the Monsanto Seed Company. Stephanie Witzman selected Atlantic High School Journalism Department to receive the $2,500 donation in Cass County. A representative of the seed company, the AHS Journalism Department, and Mrs. Witzman will participate in a ceremonial check presentation ceremony next Wednesday, Feb. 19th, at the High School, beginning at 5-PM.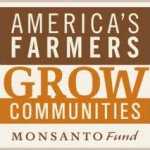 America's Farmers Grow Communities works directly with farmers to support nonprofit organizations doing important work in rural communities. The program encourages farmers to enter to win $2,500, which is then directed to the farmer's nonprofit of choice. Launched nationally in 2011, the program has grown to include 1,289 eligible counties in 39 states. America's Farmers Grow Communities, sponsored by the Monsanto Fund, is part of the America's Farmers initiative, which highlights the important contributions farmers make every day to our society.
For a complete list of Grow Communities winners and more program information, visit growcommunities.com.