FRIDAY, OCTOBER 11th
October 11th, 2013 by Jim Field
FOR SALE:  General Electric Refrigerator-Freezer, 21.7 cubic feet, Model: TCX22ZA, Freezer on bottom with drawer. Good conditions and runs great asking $250.00 or best offer. Call or text (712)-249-1984 leave message if no answer.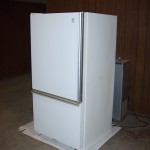 FOR SALE: Kenmore 385 Sewing Machine. Works great. Needs a new light bulb. Call 712-249-3501.
FOR RENT:  3 bedroom, 1 1/2 bath house for rent in Atlantic, $650 per month plus deposit (additional deposit for pets). Must have work and prior rental references and must be willing to sign a lease. Off street parking in back. Available mid October. 712-781-2332.
FOR SALE:  several coats,some brand new,some gently worn.Sizes 2XL-3XL.Some are Peter Bilt coats that are brand new-never worn.Please call 712-773-2326 in Kimballton.
FOR SALE:  I have a oak cupboard to hang in bath room with shelves and two doors for sale for $35.00. And a single bed frame for $5.00.  Call 712-249-4267.
FOR SALE:  1977 Coachmen Travel Trailer.  Asking $600 or best offer.  Can be seen at 709 Elm Street in Atlantic.  Call 402-305-7204.
FREE:  A 32″ Sony tv with head phones and remote in Audubon. Works and has great sound but heavy. 712-563-2243.