MONDAY, SEPTEMBER 23rd
September 23rd, 2013 by Jim Field
WANTED: hay for two feeder calves. Call with price and location. 549-2591.
FOR SALE: Antique Oak Roll Top Desk, $300 obo; Antique four section lawyer's bookcase, very good condition, $400. Call 712-243-2812. Please leave message if no answer.
FOR SALE:  antique hand water pump $50 OBO call or text 712-789-1216.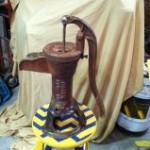 FOR SALE:  MICHE BAG/SHELLS, Petite Miche bag/3 shells: Jean, Kandi and Mikala. All new, never been used. $65 for the set. Two demi shells: Kinsley and Kris $25.00 each. Cintura bag: Willow $20.00. All in great condition, new.  Call 712-778-2565 or jercrox@netins.net.