Atlantic listed on preferred route for high speed passenger rail
August 25th, 2013 by Ric Hanson
Officials with the Federal Railroad Administration (FRA) have chosen a route for a proposed passenger rail system that would link the Omaha/Council Bluffs metro area with Chicago, and include stops at several cities in between. Among the cities, is Atlantic.

The Daily NonPareil reports the option would utilize existing tracks owned by Burlington Northern-Santa Fe, Iowa Interstate Railroad, Union Pacific Railroad and Amtrak, according to an FRA Tier 1 Record of Decision released in July. The route, which would take trains through Moline, Ill., Iowa City, Des Moines and Atlantic, was referred to as the "preferred" option during a public meeting in Council Bluffs last December, according to Brian Goss of HDR Engineering, who served as a panelist.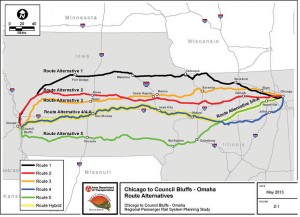 The FRA decision was based on the Draft Environmental Impact Statement of October 2012 and the Final Environmental Impact Statement of May 2013 conducted by the Iowa Department of Transportation in cooperation with the Illinois Department of Transportation as part of Tier 1 of the Chicago to Council Bluffs-Omaha Regional Passenger Rail System Planning Study, the document stated. The FRA also considered comments from agencies, tribes and Native American groups and the public received during the public comment periods.
Goss says there could still be modifications, depending on what is uncovered during the Tier 2 study.  Amanda Martin, freight and passenger policy coordinator for the Iowa DOT and manager of the project, says the selected route would have the smallest impact on the environment of any options studied. The environmental portion of the Tier 1 study was completed well ahead of the usual two-year time frame, and now, the DOT is waiting for comments from the FRA needed for a Tier 1 Service Development Plan (SDP) and hopes to have the full study finished by October.
The Tier 2 study will proceed as funding becomes available. Specific aspects of the project likely to receive attention include track improvements, drainage, railroad crossings and train-control system improvements along the entire route. In addition, construction of stations in Iowa City, Grinnell, Des Moines, Atlantic, Council Bluffs and Omaha would be studied, along with possibilities for rail yards, layover and maintenance facilities, bridge construction or improvements and other factors. Once the Tier 2 study is finalized and approved, the next step would be design and engineering.
The proposed schedule developed for the SDP for these phases includes the following estimated time frames:
• Chicago to Moline (two round-trips) – construction 2014-2015; service begins Dec. 31, 2015
• Chicago to Iowa City (two round-trips) – construction 2015-2016; service begins 2017
• Chicago to Des Moines (two round-trips) – construction 2020-2021; service begins 2022
• Chicago to Des Moines (four round-trips) – equipment procurement 2024; service begins 2025
• Chicago to Council Bluffs (four round-trips) – construction 2028-2029; service begins 2030.