MONDAY, JULY 15th
July 15th, 2013 by Jim Field
FOR SALE: Set of Mega building blocks for children. These are the larger size that make building easier for little hands. They are clean and have many different pieces for fun building. Some pieces have wheels for building cars and trucks. Hours of fun! Good used condition. $10.00. Also for sale a motorized coin sorter. New in box. Requires 3 "C" size batteries. $10.00. 712-774-5604.
WANTED: Nice , oak, roll top desk, no wider than 38". 712-307-2873.
FOR SALE: Oneida "Golden Juliard" Pattern Silverware with Gold tip. Set of 7 with extra serving pieces. Velvet lined case included.. Valued at $1000.00, will sell for $125.00. Nortake "Sweet Surprise" pattern China set. Set of 12 with Salt and Pepper. Valued at $1100, will sell for $125.00. Old Fletcher Chapel Alter Chairs and Podium. Dark oak…alter chairs was $700 for both, now $300 for both. Podium with rostrum, was $275, now only $125.00. Call Leslie at 712-254-1818 for details.
TO GIVE AWAY:  A 2 year old male Labrador.  He is AKC registered and very friendly.  Would require a fenced-in yard or country location.  Call 712-627-4664.
KITTENS: We have three VERY cute, VERY active kittens available now.  They were born on May 24 so they are eight weeks old. They are great with kids of any age. Please contact me by email sborts72@hotmail.com or Cell 641-218-8526.
FOR SALE: I have one lot of 116 issues of Mechanix Illustrated, Popular Science, Popular Mechanics and Science and Mechanics magazines all in very good condition from 1959 thru 1962. $100 for the whole lot. 712-250-0315 in Anita.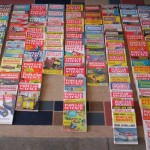 WANTED: A 4 wheel drive, four-wheeler or maybe a 6 wheeler, in decent condition. Also looking for a cheap pickup or car in good condition. Call 712-304-4262