Lenox man arrested on numerous charges
July 1st, 2013 by Ric Hanson
A traffic stop Friday evening in Taylor County resulted in numerous charges. Lenox Police stopped a pickup at around 8-p.m. in the 500 block of West Nebraska for equipment violations and for the driver failing to wear a seatbelt.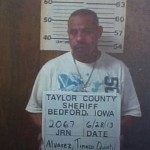 The driver denied having identification on him but identified himself as 46-year old Tinoco Alvarez, of Lenox.
A routine check of his drivers status showed he did not have a Iowa drivers license and that he was wanted on an arrest warrant from California. At that time he was handcuffed and searched. The search located a California identification card in the name he provided as well as a Kansas identification with his picture but in a different name. during questioning he admitted using the false name to obtain employment.
Alvarez was arrested and charged with failure to have a drivers license, failure to have insurance, failure to wear a seat belt and identity theft, a Class D Felony. Additional charges are pending further investigation. He was transported to the Taylor County jail for processing