IA Women in Ag Conference set for July 30 in Ankeny
July 2nd, 2013 by Ric Hanson
A conference set to take place later this month in Ankeny will address the challenges women face in agriculture. Deb Schuler, President of Iowa Women in Agriculture, says the organization's 7th Annual Conference, entitled "All in a Day's Work," will be held July 30th, from 8-a.m to 5-p.m. at the FFA Enrichment Center, in Ankeny. The day before, a wine and cheese welcome reception will be held from 5-to 8:30-p.m. at the Courtyard by Marriott, in Ankeny. Cost for the conference is $70, and includes the evening welcome reception, a continental breakfast, and lunch. Registrations are due by July 20th. All early paid registrants will be eligible to win a Google Nexus 7, 16-gigabyte tablet.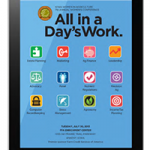 Schuler says the conference features a variety of topics, including: Farm estate planning; Livestock marketing; Mobile precision ag lab; Livestock regulations; Agronomy; Stress management; Quick books; Income tax issues, and much more. Distinguished speakers include Roger McEowen/ISU Center for Ag Law and Taxation; Julianne Johnston, Farm Journal Media editor; Brandi Shay, from SouthwesternCommunity College; Dr. Michael Rosemann, with AgriWellness, Inc.; Annette Sweeney, former chair of the House Ag Committee and Iowa AgriWomen President, and others. 
For more information, contact IWIA President Deb Schuler at 712-243-4444, or go to www.iowawomeninag.org.