Wet & stormy weekend in store for Iowa
May 25th, 2013 by Ric Hanson
The National Weather Service in Des Moines says a wet and stormy Memorial Day Weekend is on tap for the area as showers and thunderstorms remain in the forecast from today into next week. The best potential for thunderstorms will be during the nighttime and early morning hours each day, although storms are possible at other times as well.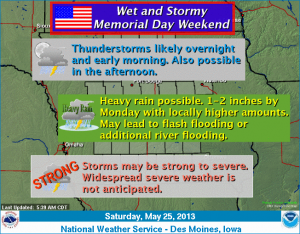 The threat for widespread severe weather is low, but a few severe storms with large hail and damaging winds cannot be ruled out.
Of greater concern is the potential for heavy rainfall, with widespread one to two inch accumulations expected by Monday with locally higher amounts possible. This may lead to additional river flooding and possibly flash flooding in some areas.