New Information in the Search for Kathlynn Shepard
May 22nd, 2013 by Ric Hanson
WebsterCounty,IOWA— Investigators and search parties have gained additional information surrounding the abduction and subsequent search for Kathlynn Shepard. Most significantly, a search team of law enforcement and K9s located the young girls' backpacks late yesterday, Tuesday, May 21, 2013. Additionally, investigators obtained an image of Kathlynn from the day of the abduction.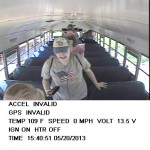 In the included image is Kathlynn as she exited the school bus, shortly before her abduction. Previous reports indicated she was wearing a "Vikings" baseball cap. However, in the image provided, she is wearing a "Cubs" cap.
As the search area is primarily rural and uninhabited terrain, investigators continue to solicit information from locals and frequent visitors. In particular, investigators are asking any hunters that may have placed hunting cameras in the area, to check their recorders and report any findings to law enforcement. Please call 515-573-1410.
Additional volunteers are not needed at this time, however, they may be needed in the near future. If you would like to contribute to the search for Kathlynn, please call Webster County Emergency Management at 515-571-6483. Please leave a message for search coordinators indicating your name and contact number, as well as any resources you may be able to provide.