Viking Lake State Park near Stanton is a DNR Championship Park
April 5th, 2013 by Ric Hanson
After weeks of voting, Viking Lake State Park near Stanton, Lacey-Keosauqua State Park, have made it to the DNR's Park Madness championship on Facebook. As a result, Iowans will be able to enter a drawing for a chance to win a free weekend of camping at the championship park. The final round of voting begins at 7:30 p.m. April 7 at www.facebook.com/iowadnr.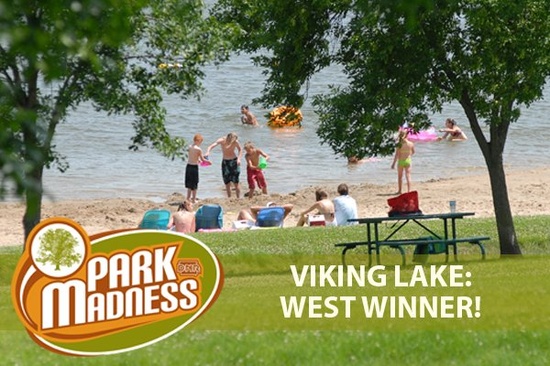 People can vote for their park of choice by commenting on the Park Madness post. Be sure to "like" the DNR's page while you're there to see future Park Madness posts. The winning park will be announced Monday, April 8th at noon on Facebook, along with contest information. People can enter to win two camping coupons for the winning park. Details about contest entry and rules will be available, beginning April 8th, at www.iowadnr.gov/Destinations/ParkMadness.aspx.
Park Madness kicked off March 19, with two parks from each region of the state facing off. Lacey-Keosauqua defeated Lake Ahquabi in the southeast regional and then Backbone to represent eastern Iowa. Viking Lake won over Waubonsie in the southwest regional and then Ledges in the western semifinal.
For more pictures of parks in the running, visit the DNR on Pinterest at www.pinterest.com/iowadnr and check the "Iowa State Parks" board. Follow the DNR on Twitter at www.twitter.com/iowadnr for updates and more information.