THURSDAY, APRIL 11th
April 11th, 2013 by Jim Field
WANTED:  Looking and hoping to find a one or two bedroom house to rent. I would like it to be nice and clean, I also have a cat. please call 243-7036 and ask for David.
FOR SALE:  I have 116 issues of Popular Mechanics, Popular Science, Mechanix Illustrated, and Science & Mechanics magazines from 1959 thru 1962. These are all in good condition $200 for the lot. 712-250-0315 in Anita.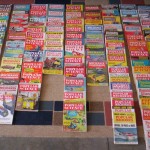 WANTED: Looking to purchase an exercise bike. Please call 712-307-0879. FOUND!
FOR SALE: An exercise bike for $25. Call 712-243-4574. SOLD!
WANTED: Looking for used kitchen cupboards, base or upper hanging, either are fine. Doesn't have to be anything special, just need them for storage. Call 712-789-0346