5th Annual Tour de Tivoli ride deadline approaches
April 13th, 2013 by Ric Hanson
Monday is the deadline for anyone interested in riding in this year's 5th Annual Tour de Tivoli bike ride, that takes place May 26th, as part of TivoliFest.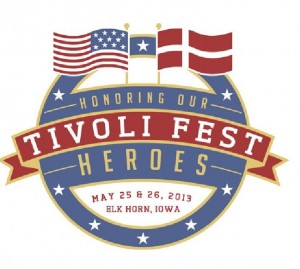 This year's ride is being held in memory of Cheryl Swearingen, co-creator of the event. It features 26 and 50-mile loops. Both loops begin at 9-a.m., with riders heading north out of Elk Horn on Main Street, then west on County Road F-58. Riders on both loops will then travel on M-47, with a stop at Prairie Rose State Park if necessary, before continuing onto Highway 44 enroute to Kimballton, where there will be another break offered at the Little Mermaid.
From there, riders have the option to split-up to complete a 26-mile leg, which takes them on Highway 173 back to Elk Horn, or a 50-mile route that continues east on Highway 44 to Hamlin, with a stop at the T-Bone Trail head, before proceeding south on the trail to Exira. After another brief rest, riders on the 50-mile leg will proceed west to Elk Horn on F-58/Littlefield Drive. Danish flags will mark the entire route.
Anyone who registers for the event by April 15th, has an opportunity to purchase a one-of-a-kind classy, bike jersey featuring the 2013 Tivoli Fest logo and theme, and, on the back, a picture of Cheryl Swearingen. The cost prior to the ride is $65 each. Early registration costs $35, and includes a Tour de Tivoli t-shirt, SAG stations/refreshments, chances to win door prizes, a meal or post-ride meal, and free "Music at the Mill" entertainment.
For more information, call Debbie McClain at 712-249-7257.