Shelby County EMA reminds residents about Field Fire Dangers
March 28th, 2013 by Ric Hanson
Officials with the Shelby County Emergency Services Association — which is comprised of all Fire, Ambulance, Emergency Management and Law Enforcement services in Shelby County — want to make sure residents are aware of the upcoming Spring Field Fire Season. The Emergency Management Agency says Shelby County sees an increase in fire activity every year in the spring and fall when residents start igniting burn piles, or prescribed fires on CRP land to meet land management objectives. Often time's fires are ignited on days when weather conditions are less than favorable. When these burns are started they can cause escape fires which put lives, environment, and property in danger.
The Shelby County Emergency Services Association, in coordination with local Fire Chiefs are asking residents to call the Shelby County Emergency Management Office at 712-755-2124 to report your controlled burning projects. When you call in you will simply be asked the size of your project, a number you can be reached at, start and stop times of the planned burn. The Shelby County Emergency Management Office will also ask that you provide the local fire chief with notification.
The "Fire Danger" rating board located in all various communities within the county, will be updated twice a week. Most of the placards are located at community fire stations.  If you are unsure where the Fire Danger Rating sign is located contact one of the members of your local fire department, they will be happy to let you know where it is. An electronic copy of the Fire Danger Rating Board is available for you to view at www.shelbycountyema.com.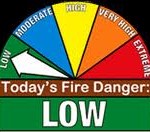 The purpose of the system is to visually let the public know when the conditions are safest to carry out your burning projects. The system is not a permitting process or authorization to burn, it just lets you know if conditions are favorable.
Shelby Counties cooperative system will allow the authorities to dispatch Emergency Resources immediately on report of smoke when the fire danger is determined to be HIGH or EXTREME. On HIGH days fire resources will be dispatched and make a decision on whether it is safe to continue the burning. If the Fire Chief or his designee think conditions are not safe they may extinguish the fire. On EXTREME days all fires will be extinguished unless a permit or waiver has been signed by the Chief of the local fire department.