Former Atlantic State Champ Inducted into Missouri Wrestling Hall of Fame
March 8th, 2013 by Jim Field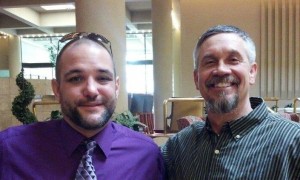 J. Robert Burrows was inducted into the Missouri Wrestling Association Hall of Fame on Sunday, March 3rd.  Robert was a 1981 graduate of Atlantic High School and was inducted into the first Atlantic/CAM Wrestling Hall of Fame in 2011.  The following speech was written and read by Coach Rick Wilkson, seen in the photo with Robert, better known in Missouri as 'Bob'.
"Today I have the honor and privilege of introducing Bob Burrows for his induction into the Missouri Wrestling Association Hall of Fame as a Coach and Wrestler.  Mr. Burrows was a head coach for 21 years at Lathrop, Higginsville and Lexington High Schools, and was an assistant coach for four years at Warrensburg High School.   As a head coach, his teams won three District and one Conference title. He had numerous top ten state finishes, highlighted by a third place finish in 1999.  He also coached 52 State Medalists, 20 State Finalists and 12 State Champions, including 4X state Champion Brendon Fox.  As a wrestler, Bob won a state title his senior year at Atlantic High School in Iowa, and was a two-time NCAA Division Two All-American for Central Missouri State University, placing 8th as a junior and 6th as a senior.
Coach Burrows was a great role model and mentor to countless students and athletes during the 25 years that he was an educator.  Not only was I fortunate enough to get to spend four years as an assistant for Bob, I also had him as a teacher and coach when I was in school.  Wrestling was never just about wins and losses to Bob.  It was about teaching life lessons.  And those same life lessons are what I try to pass on to the athletes that I have worked with, and to my own children as well.  Things like citizenship, hard work, discipline and accountability, just to name a few.  He wanted you to be the best you could be, in sports and in life, and to have fun while doing it.  On behalf of all of the students and athletes that you have had such a positive impact on over you career, we thank you.  And to his wonderful wife Shelly, thank you for sharing him with us for all of those years
Coach Burrows is a member of the Atlantic High School Athletics Hall of Fame, the University Of Central Missouri Wrestling Hall Of Legends, and now the Missouri Wrestling Association Hall of Fame."
Robert's proud parents are Jack & Florence Burrows, Atlantic, IA.