Des Moines Register lays out the full RAGBRAI Route
March 11th, 2013 by Ric Hanson
Officials with the Des Moines Register, on Sunday, released more details on the 2013 RAGBRAI route, including those cities which the bicyclists will roll through, but not stay overnight.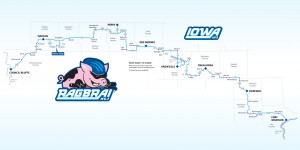 As mentioned earlier, the throngs of bicyclists begin Sunday, July 21st, by dipping their wheels in the Missouri River at Council Bluffs. From there, they will travel through the unincorporated town of Weston, and then on to Underwood, Neola, Minden, Shelby and Tennant. The first day's leg of the journey ends with an overnight stay in Harlan.
When the bikers roll out Monday morning on their way to Perry, they'll pass through Kimballton and Hamlin. Between Harlan and Kimballton, the bicyclists have a chance to make a swing through Elk Horn, as part of  "Karras Loop," which takes them from Highway 44 down M-47 to County Road F-58 and back up to Highway 44.The Karras Loop was named for RAGBRAI Co-founder, John Karras.
Then it's on to Guthrie Center, Springbrook State Park and Yale, before they roll into Dallas County. The journey ends on Saturday, July 27th, at the Mississippi River in Lee County, near Ft. Madison. The route is just under 407 miles long and the 15th flattest in RAGBRAI history.