Cumberland farmer wins $5k for food pantry & volunteer fire dept.
March 26th, 2013 by Ric Hanson
A Cass County farmer selected as a winner in a seed company's contest, has designated her winnings for two local organizations. Ruth Steffen, of Cumberland, was selected as a winner in America's Farmers Grow Communities℠, sponsored by the Monsanto Fund.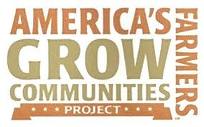 Grow Communities gives farmers the opportunity to win a $2,500 donation to direct to their favorite local nonprofit organizations. To further support counties that have been declared disaster areas due to drought by the U.S.D.A. winning farmers in these counties were able to direct double the donation, a total of $5,000 to further support the community. Cass County was declared a disaster area by the USDA, giving Steffen, the opportunity to place two $2,500 donations. She selected Atlantic Food Pantry and Cumberland Volunteer Fire Department.
A ceremonial presentation of the checks will take place 6-p.m. Saturday, March 30th, at the Cumberland Fire Department (216 Main St.).