WINTER STORM WARNINGS OFFERED THROUGH COUNCIL BLUFFS/POTTAWATTAMIE COUNTY CodeRED SYSTEM
December 21st, 2012 by Ric Hanson
Pottawattamie County Emergency Management reports the CodeRED early weather alert system has been upgraded, to allow residents countywide to receive winter storm warnings. As Midwest residents know, significant winter storms can immobilize a region and paralyze a city, stranding commuters, stopping the flow of supplies and disrupting emergency and medical services.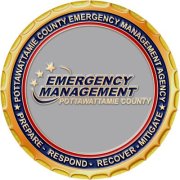 Doug Reed, Emergency Management Director for Pottawattamie County, says "Residents need to be informed so they can better prepare for devastating storms. With new winter storm warnings available, our community can do just that."
Winter storm warnings are sent to residents through text and email moments after an alert is issued by the NWS. Notifications are only available to those who have opted in to the CodeRED system. To receive an alert for a winter storm warning, residents should log on to the county website at www.pottcounty.com and enter both an email address and a cell phone number. Many city websites throughout the county also provide a direct link to the enrollment form. For citizens already registered, repeating the process will only update your current account and takes only a few minutes.
Phone calls are not made for winter storm warnings because many of them are extended during the early morning hours. We want the community to be informed but not annoyed with late night phone calls. Residents may also select to receive severe thunderstorm, flash flood and tornado warnings through telephone calls to their homes and businesses, email and text messages.
All residents are encouraged to subscribe to the countywide CodeRED system. Having the option to receive winter storm warnings is an added bonus for the residents that live here and will provide them extra time to prepare if a storm were to impact our area.