Snowmobilers: Are you aware of registration & user permit changes?
December 27th, 2012 by Ric Hanson
The first significant snowfall of the season last week had area snowmobilers out enjoying their machines and hoping for more snow to keep them active.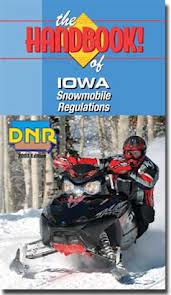 Cass County Recorder Joyce Jensen says before you begin your next adventure in the open, you should be aware the State of Iowa has made some changes in snowmobile registration, license renewal, titling and assignment of liens.
Jensen says her office uses the Recreational Vehicle and Vessel Registration, or RVVRS (pronounced "Rivers") System. She reminds snowmobile enthusiasts that registrations for your machine or machines are due no later than the end of this month. Jensen says registrations are due by December 31st, if you want to avoid a penalty.
In addition she says, there are some new requirements when it comes to using snowmobiles on public land. Jensen says all snowmobiles, regardless of owner residency status, used on public land, public ice, and designated snowmobile trails in the State of Iowa, must display and IDNR User Permit.
User permits are required in addition to a valid registration. And, Jensen says also the State requires insurance cards or proof of insurance in order for snowmobiles to be used on the highways. There are new rules as well, regarding the use of snowmobiles for"Water Skipping."
She says you are welcome to come into the Cass County Recorder's Office to pick up a booklet containing information on all the new changes, which Joyce and her staff will go over with you. She says she hopes to see all snowmobile enthusiasts in her office over the next few days to get their registration up-to-date and go over the new rules.