ICA honors 3 western Iowa beef producers
December 27th, 2012 by Ric Hanson
Three Iowans who have devoted their lives to improving cattle and beef production in the state were honored during the Iowa Cattlemen's Association annual meeting in December. Together, their work totals 125 years. Darrell Busby, of Oakland, was honored as the ICA 2012 Hall of Fame recipient.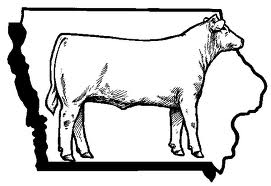 Since Busby came to Iowa in 1980 as an Extension Beef Specialist, he has worked to provide a better understanding for producers of how what's going on inside cattle can improve outcomes on the outside. As an extension specialist for 30 years, he collected in-depth growth and carcass data, and showed cattle producers how the information is useful in 'cause and effect' ways that impact their bottom line. Although he retired from Iowa State University in 2010, he continues to focus on collecting data about beef cattle as manager of the Tri-County Steer Carcass Futurity cooperative in southwest Iowa.
Lee Faris, of Mt. Ayr, was named the 2012 Outstanding Commercial Producer Award winner. Faris has been involved in cattle production for 40 years. He began his beef operation near Mt. Ayr when he purchased 27 head of three-year-old bred cows in 1973. Over time, he has grown that herd to more than 200 cows. Faris credits his success to a good health program for both breeding stock and calves, and keeping good records on cow production. In recent years, he has been able to document a 95% calf crop or better.  The Iowa Cattlemen's Association and the Iowa Beef Breeds Council jointly selected Faris as the award winner for the Outstanding Commercial Producer Award. They also worked together to select the final recipient of producer awards.
And, Everett Shepherd of EJ Shepherd Charolais, Stuart, is the Seedstock Producer of the Year for 2013. His journey to focusing on Charolais cattle is much like the journeys he has taken across the country "looking for the right genetics." Shepherd has been in the cattle business for 46 years, starting with a registered Angus herd, and then crossing them with Simmentals for 10 years in his commercial cow/calf operation. He gradually transitioned to purebred Charolais, and focused on seedstock production, providing quality bulls and heifers to commercial herds in Iowa, as well as the U.S. and Canada.
The Iowa Cattlemen's Association represents more than 9,500 beef-producing families and associated companies dedicated to the future of Iowa's beef industry. ICA's mission is "Grow Iowa's beef business through advocacy, leadership and education."