Cass County Salvation Army Bell Ringing numbers are in
December 31st, 2012 by Ric Hanson
Funds raised through the Cass County Salvation Army's Bell Ringing Campaign this year came in a little less than last year, but not by much.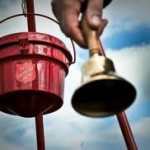 Bell Ringing Campaign Chair Duane McFadden provided the near final tally during the Board of Supervisor's meeting Monday morning, in Atlantic. McFadden said volunteers received a total of $10, 608.70. in their kettles.
Last year at this time, donations amounted to $11,176, which was nearly double the amount raised in 2010. New this year was an on-line credit card donation feature which allowed contributions to be directed to specific units, such as the one in Cass County. It's unclear how much those donations amounted to, though.
All proceeds from the donations stay in Cass County, for various Salvation Army-related programs.