Cass Co. Conservation announced Swan Contest winner!
December 1st, 2012 by Ric Hanson
Officials with the Cass County Conservation service say the sponsors of Trumpeter Swan Arrival contest have determined a winner in the contest.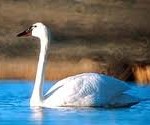 The official arrival of the swans, as determined by the Conservation Board, was November 24th  On that day there were 12 Trumpeter Swans at the Schildberg Quarry Recreational Area. The large-winged birds stayed there for more than twenty-four hours. The winner this year's contest is Alice Brown of Atlantic.
Alice will receive a Trumpeter Swan 8×10 print from the Cass County Conservation Board.  The school contest was won by Mrs. Christensen's third grade at Washington Elementary The students will receive a trumpeter swan poster and Mrs. Christensen will receive a trumpeter swan 8×10 print! Cass County Conservation would like to thank to all who participated in the annual event.