WEDNESDAY, NOVEMBER 21st
November 21st, 2012 by Jim Field
FOR SALE:  Have two tickets to the Iowa/Nebraska Football game on Friday, November 23, 2012.  $50.00/ea.  Call:  308-746-1188 or 308-325-2075  if interested.
FOR SALE:  I have an almost new (two weeks old)  Memory foam mattress topper. 3 in. thick.  Discovered this old back needs a very firm mattress so I am selling this. I paid 125.00 for it. Yours for 60.00.  Near Atlantic  243 9849.
FOR SALE: Ashley Sofa $300…..always had a cover on….non smoking environment. 8? Memory Foam Queen Mattress with platform frame …no headboard, also always kept a protection cover on it so like new. $200.  Atlantic.    My cell number 402-516-2973. Local number 243-2890.(Click pictures to enlarge)
FOR SALE: LG Optimus Elite Cell Phone (Virgin Mobile) Android….comes with the charger and the green case. A few months old. No contract / in Atlantic. $100.00.   249-8475 (Click picture to enlarge)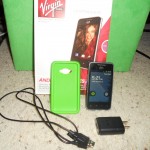 FOR SALE:La-Z-Boy Recliner.  Medium brown color.  $130.  Call 712-773-2326.
FOR SALE: Schwinn 3 wheel bicycle $100; 14 foot trailer w/ good lights, jack, ramps, extra tires, all aluminum and flat with a backgate $800.  Call 712-790-1841.