Reminder to buckle up and drive safe Thanksgiving week
November 17th, 2012 by Ric Hanson
The Iowa Department of Public Safety is reminding motorists planning on traveling during this upcoming week that most of the state's police officers, deputy sheriffs, state troopers and Department of Transportation (DOT) officers will participate in a Thanksgiving holiday enforcement effort aimed at encouraging everyone to buckle up.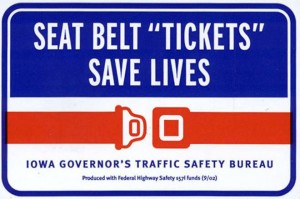 This one-week enhanced enforcement period, spanning November 19–25, 2012, is another wave of Iowa's special Traffic Enforcement Program (sTEP). The goal is to convince all motorists of the importance of buckling up.  In addition to safety belt violations, officers will also be watching for impaired drivers and other moving violations.
Although 92 percent of Iowa motorists are using safety belts during daytime hours, there are plenty of other drivers and passengers who aren't, especially in rural communities.  As of November 1st, 2012, over 37 percent of the year's 299 fatalities were not wearing seat belts at the time of the crash which claimed their life.
Among the many law enforcement agencies participating in this years Governor's Special Traffic Enforcement Program , is the Pottawattamie County Sheriff's Department, which has applied for and received a grant to provide extra traffic enforcement in five phases starting the week of Thanksgiving 2012.