(Update 7:30-a.m.) Fire at an Apartment Complex in Harlan displaces 12 residents, but no major injuries reported
November 29th, 2012 by Ric Hanson
A fire at an apartment complex in Harlan Wednesday night gutted the building and left about a dozen people homeless, but no major injuries were reported. One person did however, suffer from smoke inhalation. The blaze at 707 Durant Street, broke out just after 6-p.m.
Harlan Fire Chief Roger Bissen told our sister-station KNOD in Harlan, that seven area fire departments were called to help control the flames, including Atlantic (which sent its aerial unit and six firefighters), Avoca, Defiance, Earling, Elk Horn, Kirkman and Westphalia. Bissen said the fire began on the east side of the 1st floor, and quickly spread to the rest of the house. The main reason the fire spread so quickly he said, was because of the age of the building. "This old of a structure you deal with a balloon type structure so there isn't a break in between floors." The building, which is located very near the Harlan City Hall, is 102-years old.
Bissen said he thinks there were about 5 tenants inside at the time. , Authorities said the dozen occupants in the apartment building were temporarily relocated to the Settle Inn in Harlan. Volunteers with the American Red Cross provided food, clothing and additional shelter, as needed.
Monetary donations and clothing items can be delivered to: Terry Irwin at 608 Dodge Street in Harlan; West Central Community Action on the east side of the square in downtown Harlan; or, the Town and Country Credit Union 1414 Chatburn Avenue in Harlan.
(All photo's are courtesy the Harlan Newspapers)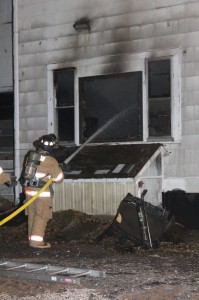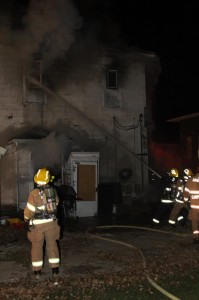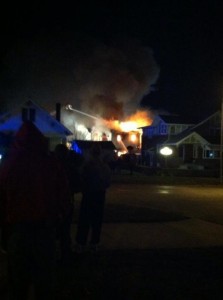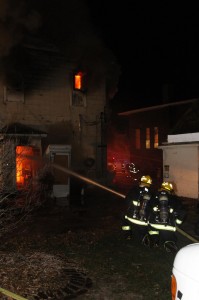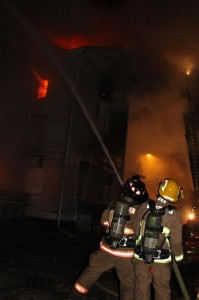 Harlan Apartment Fire Video 11-28-2012
(Video Courtesy Atlantic Fire Chief Mark McNees)