Two Bridges along Highway 6 in Cass County named in Honor of Troopers
October 18th, 2012 by Ric Hanson
Two Iowa State Troopers who died when their plane crashed into a field near Atlantic a little over 23-years ago, were honored this (Thursday) morning, at ISP State Radio, near Lewis. The bridges located along Highway Six in Cass County, were named for Trooper Pilot Lance Dietsch and Trooper Stanley Gerling.
Major Tim Leinen with the State Patrol said prior to today, six Troopers were recognized who lost their lives in the line of duty. The remaining two Troopers will be honored over the next few weeks. In all, 10-State Troopers have made the ultimate sacrifice while serving the citizens of Iowa.
Major Leinen was on duty the fatal day Troopers Dietsch and Gerling died. He was working in the Council Bluffs area following the pursuit of a stolen vehicle. Trooper Pilot Dietch was also part of the pursuit. He was one of the Troopers to transport the suspects to jail. Dietsch then drove to Atlantic to take the airplane up during the July 4th weekend patrol. Leinen says it wasn't until later he found out what happened.
Leinen says Dietsch and Gerling were killed in an airplane accident on June 30th, 1989, southwest of Atlantic. The pair had been searching for an elderly man who had wandered off, and were about to call off the search when they troopers located him in a soybean field. They began to circle the area when the plane made a sudden turn and crashed vertically into the ground.
Troopers Dietsch and Gerling were the first aircraft fatalities since the addition of the Patrol Airwing in 1956. Dietsch, of Council Bluffs, was 30-years old, and a six-year veteran of the Iowa State Patrol. He was survived by his fiancé.' Gerling was 34-years old, and in his first year of service to the Patrol. He is survived by his wife and two sons. Leinen recalled the mood of his fellow Troopers when he heard the news about the crash.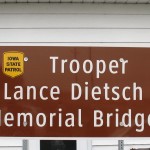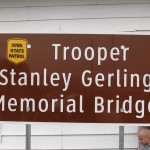 He said he heard about an accident on the communications channels. When he came to the Post, he met other Troopers who had come away from a briefing, and they were very somber. He says he still thinks about the crash to this day, and gets very emotional about it, especially when he drives by the location of the crash near Highway Six. The bridges with the men's names in memoriam, are located west and northeast of Lewis along Highway 6, as it traverses Indian Creek, and Turkey Creek.
(click on the images to enlarge)