DNE Asks Rural Iowans to be Vigilant, Report Hidden Marijuana Grow Operations
October 3rd, 2012 by Ric Hanson
Officials with the Iowa Division of Narcotics Enforcement, say their agents, in partnership with local officers, have discovered and eradicated three large, outdoor marijuana growing operations in Southwest and South Central Iowa, and in Northwest Missouri over the past three-weeks. All of the pot growing sites were found in dense timber areas.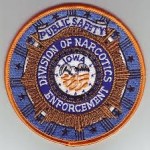 On September 14th, law enforcement officials eradicated a 3,850 plant marijuana growing operation that had been abandoned in Taylor County.  And on September 25th, a 571 plant marijuana growing operation in rural Decatur County, Iowa, along with a 1,124 plant marijuana grow in rural Worth County, Missouri.
Officials say some common trademarks of a marijuana growing operation include:
The use of private land owned by individuals unaware of the grow operation;
Marijuana growers living full- or part-time at the grow site in small, make-shift camps;
And, those Grow operators will abandon the site for several weeks if they suspect the operation has been discovered
There have been no reported violent encounters with marijuana growers, however public safety remains a priority. Authorities say rural land owners, farm workers, and hunters who may be traversing remote and seldom-visited areas in the coming month are advised of the recent marijuana plant seizures. If you encounter a location or items that appear suspicious, law enforcement encourage you to leave the area immediately to ensure personal safety.  Be sure to avoid disturbing the area, as items of evidence may be present.  Once at a safe location please call your local law enforcement agency to report what you've seen.  Do not take action on your own.
Law enforcement officers from the Iowa Division of Narcotics Enforcement, Iowa State Patrol, Taylor, Ringgold and Decatur County Sheriff's Office, along with the Lamoni Police Department, and Worth County Sheriff's Office in Missouri, assisted in the eradication of the marijuana grow operations.