Scavenger hunt prize: year-supply of Coca-Cola
September 12th, 2012 by Ric Hanson
A scavenger hunt that begins Monday may result in you winning a year's supply of Coca-Cola.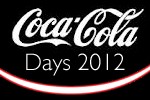 Officials with the Atlantic Area Chamber of Commerce announced today (Wednesday), that in honor of Atlantic's 20th Coca-Cola Days,  the Chamber is giving away a year-supply of Coca-Cola to one lucky and observant household. The scavenger hunt is set to run September 17th through the 21st. Thirty 12-packs will come in one or a variety of flavors for the winning household.
To be entered to win, players must correctly identify at least eight special Coca-Cola items located in 11 participating businesses. Each business features only one scavenger hunt item. "You Found It" signs flag the item as the right object.
Scavenger hunt lists with rules can be found on AtlanticIowa.com, in the Atlantic News Telegraph, or at the Rock Island Depot. Completed lists must be returned to the Atlantic Area Chamber of Commerce by Friday, September 21st, at 5:30 p.m.
A winner will be drawn at the Tailgate Party at the Rock Island Depot on Friday evening. Winners will be featured in the Coca-Cola Days parade Saturday at 4 p.m. The Iowa Chapter of Coca-Cola Collectors co-sponsors the parade.
The scavenger hunt is a product of the chamber's Special Promotions and Events Committee. More information can be found through (712) 243-3017 or chamber@atlanticiowa.com.