RED FLAG WARNINGS ISSUED FOR MUCH OF THE KJAN LISTENING AREA TUESDAY
September 10th, 2012 by Ric Hanson
COUNTIES: CRAWFORD-CARROLL-AUDUBON-GUTHRIE-CASS-DALLAS-POLK-ADAIR-MADISON-ADAMS-UNION-TAYLOR-RINGGOLD
324 PM CDT MON SEP 10 2012
A RED FLAG WARNING IS IN EFFECT FROM 11 AM TO 9 PM CDT TUESDAY FOR EXTREME FIRE CONDITIONS.. THIS REPLACES THE FIRE WEATHER WATCH WHICH WAS PREVIOUSLY ISSUED.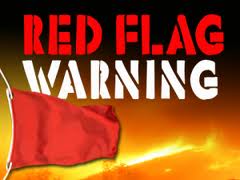 SOUTHWEST WINDS OF 20 TO 30 MPH…WITH GUSTS TO 40 MPH CAN BE EXPECTED. IN ADDITION, THE RELATIVE HUMIDITY  WILL DROP TO 15 TO 25 PERCENT IN THE AFTERNOON. FIELD CROPS ARE NEARLY CURED AND HAVE BECOME HIGHLY COMBUSTIBLE. IN COMBINATION WITH THE FORECAST CONDITIONS TUESDAY…THIS WOULD LEAD TO RAPID FIRE GROWTH. IN ADDITION…THE DRYING OF GRASSES IS WELL AHEAD OF SCHEDULE DUE TO THE HOT AND DRY CONDITIONS THIS SUMMER.
IF A FIRE STARTS TUESDAY AFTERNOON…RAPID FIRE GROWTH WOULD BE POSSIBLE AND IT WOULD BE VERY DIFFICULT TO CONTAIN. A RED FLAG WARNING MEANS THAT CRITICAL FIRE WEATHER CONDITIONS ARE EITHER OCCURRING NOW…OR WILL SHORTLY. A COMBINATION OF STRONG WINDS…LOW RELATIVE HUMIDITY…AND WARM TEMPERATURES WILL CREATE EXPLOSIVE FIRE GROWTH POTENTIAL.